商品カテゴリー
おすすめ商品

We have been brewing our soy sauce for around 100 years, passing it down to three generations of soy sauce craftsmen. Surrounded by the beautiful nature of Osakikamijima island and made in Japanese-crafted cider wood barrels, we can taste great umami taste and elegant fragrance.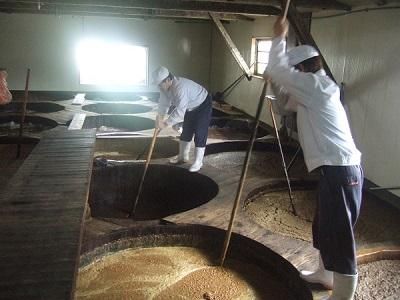 Currently, we are a member of the KIOKE SYOYU community.
Brewing soy sauce in wood barrels takes a long time. For example, our popular products are fermented for two years in the process of brewing. So, only a few breweries apply this way, and less than 1% amount of soy sauce is fermented in wood barrels in Japan.
The biggest feature of those wood barrels is the ecosystems of microbes inside the barrels. There is a tiny space where microbes can live on the surface of the wood barrels. Long-time age, environment, and climate, are those many factors that make our microbes' ecosystem unique. Each brewery has a unique microbe ecosystem. This unique ecosystem of microbes gives our soy sauce a rich umami taste and elegant fragrance. Our company has a long history and this makes our products taste unique through the fermentation process by unique microbes inside the barrels.
In our company, we have confidence in every process from raw materials selection to filling. We use raw materials from local places. For example, soybeans and wheat consigned to farmers in Hiroshima, and sea salt from the Seto Inland Sea which is surrounding our island. A long time aged Japanese-crafted cider barrels and unique microbes ecosystem make soy Our soy sauce tastes great. Our soy sauce let us know how foods taste good originally through umami taste and special fragrance brought out from those Japanese-crafted cider barrels.